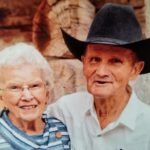 Bill & Norma have spent 60+ years of their lives farming & ranching in SW Nebraska.  Several years ago they sold their cow herd and now have decided it is time to retire from farming. They are selling everything on the farm from their tools to their tractors.
Sale starts at 10:00 with machinery to sell approximately 12:30-1:00. If you can't make it to the auction you can bid online beforehand or live during the auction.
Friday, February 14th – 10:00 AM CT
74071 Road 389 – Curtis, NE
From Curtis, NE: Go 1/2 Mile South on Hwy 18 to Road 389, follow road 6 miles to sale site.
From Hwy 83 Mile Marker 40:  Turn East on Road 740, go 2.5 miles to Road 387, turn left and follow road 2.5 miles to Road 389, turn north and go 1 mile to sale site.
Lunch On Site
Loader Available Sale Day….Also On Saturday & Sunday By Appointment Only
SCROLL DOWN FOR PICTURES!
2007 JD 7220 MFWD Tractor, w/JD 740 Classic Loader w/Grapple & Joy Stick, 10,052 Hours, Power Quad w/ Reverser IVT, 3 Hydraulics, 540/1000 PTO, 3 Point w/Quick Hitch
1999 JD 9510 Combine, 3,757 Hours, 2,874 Separator Hours, Fold Down Extensions
1989 JD 4555 Tractor, 10,532 Hours, Power Shift, 1000 PTO, 3 Pt w/Quick Hitch
1948 JD A Tractor
1950 Farmall M Tractor
2001 Ford F250, Gas. 4WD, 2 Door, Long Box, 87,359 Miles
1980 Chevrolet Pickup, 3/4T, 4WD w/Besler Bale Bed
2008 Travalong 20' Gooseneck Trailer
1989 Freightliner Conventional FLC112Truck – Engine Needs Work – Has Antifreeze in the Oil
1964 Ford F600 Truck, 13'1/2 Box
1966 Ford 602C Truck, 13'1/2 Box
1967 Chevy 50 Truck, 13'1/2 Box
1966 Ford Falcon Futura 12, 4 Door
JD 8R30 Max Emerge Plus Vacumeter Planter
JD 8R30 Corn Head
JD 925 Platform w/Homemade Trailer
EZ Haul, 7 Bale, Self Dumping Trailer
12' Hay Bale Rack on Running Gear
3 Bale Hay Wagon – Self Feeding
3 Pt Bale Spear
3 Pt 2 Bale Mover
Quinstar 28' Fallow Master Sweep Machine w/pickers
Sunflower 21' Sweep Machine w/Harrows
Krause 18' Disc w/Harrows
JD 9300 Hoe Grain Drills 10-10-20' w/transport wheel
JD #5 Sickle Mower
Brush Chief 7' 3 Point Mower
Rhino 950 3Pt, 9'Blade w/Hydraulic Tilt & Turn Table
8'1/2 Front End Dozer
Hutchison 6", 75' Auger w/Electric Motor
United Farm Model 500 Grain Cart
United Farm Tools Grain Cart               16' 6" Roof Auger
Irrigation Reuse Pump & Motor
250 Gallon Propane Tank
1000 Gallon Propane Tank On Running Gear
Pipe Trailer                  Caker on 2 Wheel Trailer
Swather Trailer
Panel Trailer w/Panels
Misc. Livestock Panels            Calf Carrier
Grain Cleaner Fan
Big Valley Self Catch Head Gate
Metal Feed Bunks
Several Tire Feed Bunks
Registered Brand – 12-31-2022,  Counties:  Frontier,   Location:  R-H,    (2) Electric Irons – 1 Cow & 1 Calf
 All The Above Items Will Be Available for Online Bidding
2000 & 1000 Gallon Fuel Tank w/Electric Pumps
500 Gallon Fuel Tank on Trailer
Aluminum Four Wheeler Ramps
Coleman Powermate Contractor 5000 Generator
Acetylene Torch Set              Promark Tool Chest
Craftsman 2Hp, 26 Gallon. 150 PSI Air Compressor
Craftsman Portable Air Compressor
Forney 235 Amp Arc Welder
Earthquake E43 Post Hole Digger      Antique Drill Press
NAPA 85-1010 Battery Charger & Starter
Stihl MS 270C Chainsaw & Case
Dayton 3/4 Hsp, 1 Phase, Bench Grinder
Large Anvil              Welding Table        Bench Vises
Several Bolt Bins            Lots of Bolts, Nuts & Screws
Shovels           Pitchforks            Post Hole Diggers
Cobforks        Ice Breakers          Axes
Post Hole Drivers     Fence Stretchers     Fence Supplies
Several Log Chains     Tractor Chains     Vise Grips
Crescents        Hammers        Drills       C-Clamps
Lots of Electric Hand Tools          Come a Longs
Hydraulic Jacks         Floor Jacks     Handyman Jacks
Several Standard & Metric Wrenches       Screwdrivers
Several Socket Sets from 1/4" to 3/4"    Impact Sockets
Punches      Bolt Cutters           Pliers        Hitch Pins
Clevis's       Saws      Levels     Wrecking Bars
100' 220 Extension Cord       Lots of Extension Cords
Saddle King 15" Saddle           Misc. Old Saddles
Misc.  Tack           Saddle Blankets         Calf Puller
Hydraulic Cylinders       Battery Operated Grease Guns
Electric & Solar Fencers             Spotlights
Funnels, Oil & Miscellaneous
Craftsman 625 Walking Weed Wacker
Lots of Irrigation Socks
Aeration Tubes & Fans             Misc. Tires & Rims
 Lots & Lots of Miscellaneous Tools, Shop & Other Items to Numerous to Mention!!